Ecstatic Dance at Taller Liberta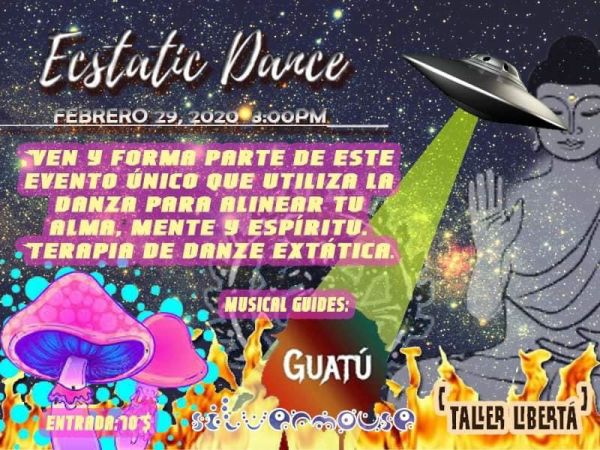 Share this event:
February 29, 2020 at 8:00 pm - 11:30 pm AST
Taller Libertá
Calle Pablo Casals #66
Mayaguez, Puerto Rico

Visit Venue's Website
Visit Event's Facebook Page
Event Over
Noche para que explores tu cuerpo y bailes libremente?\nSi estás jartx de escuchar más de lo mismo en la calle y de no tener espacios para bailar te traemos un propuesta\nTendremos una noche mágica trascendental en @taller.liberta el sábado 29 de febrero?\nGuatú, el DJ más exótico del oeste junto con Silvermouse, dúo que crea música electrónica en vivo juntamos fuerzas para abrir espacios intencionando rescatar el baile y darle su reverencia?\nPromovemos experiencias alternas de sanación y alta vibración, QUE SUENE Y SE MUEVA!!\nVen como vengas te recibiremos con los brazos abiertos?\nSincorniza tu mente cuerpo y espíritu con Danze Extática?\nMúsica tribal psicoancestral es lo que hay!!\nHongos y ovnis son bienvenidos?\n••\nHeyyy feel free to shake some!!\nMagical night in @taller.liberta saturday feb 29?\nIt will be an ectsatic dance event for you to move freely and joyfully connect with your true essence?Guatú joins forces with @silvermouselive looking forward to rescuing the sacredness of dance which has been colonized\nby bars ?\nWell fuck bars!\nWe're opening portals of high energy in creative spaces?\nAlign your mind, body and spirit with Danze Extática!\nYou're welcome to dance!!\nShrooms and UFOS are welcomed too?